Professional printing preparation - room. Poznan, Wielkopolska, Poland
off-set, screen, pad printing, flexo, CMYK, HEXACHROME
, BLACK-BLACK, PANTONE
separations
prepress, CTP and CTF imagesetting, digital proof, scanning, DTP, photo prints, consulting, gadgets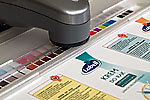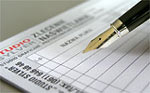 Drivers

To installation of drivers you need this files:

- one from following PPD


AGFA Apogee-3

(for Windows 2000, XP)

(35 kB)
(5 kB)
B1 PPD

(for Windows 98, 2000)



(26 kB)
(5 kB)

- installing program
Winsteng
(7559 kB)
(7373 kB)

After starting of installations file you should choose the installations of local printer and then port to file. In the next window you'll see printers possible to installation, You must choose imagesetter. If there aren't any imagesetter, you sholud adjust path to downloaded PPD file.

Acrobat Distiler settings

| | | |
| --- | --- | --- |
| Sylver joboptions | | (2 kB) |

This file you should copy to catalogue Settings of program Acrobat Distiler.






Pantone Matching System® Colour Guide





The most frequent questions (FAQ)


* On what to pay attention during type-matter of publication?

Use exchanged below principles will permit to avoid problems and the done mistakes often by inexperienced workers of preparation-room:

postscript files should possess all the required supervisory elements and the gauges (the pasers, tench of cut) especially, when the work be records in the format which does not define the area of side,
when graphics in work is present, which ends from edge of side evenly, you should add 3 mm of bleed (the edge of graphic has to lie beyond edge of side after cut),
resolution of bitmaps should contain between 200 dpi and 350 dpi (lower resolution than 200 dpi influences on quality of printed objects unfavourably, and 350 dpi does not cause the improvement of quality above, unnecessarily grow larger the size of file),
don't apply colours RGB (in case delivering work including colours RGB, final printout can be disagreeing from expectations customer),
if we in work use text in black colour, you should turn attention on this that the colour of type be only 100% K, without no different component CMY,
text should be saved as text or curves; saved as graphic arts texts will go out in printing faint and torn,
in case of colourful printing when we use the standard triad (the CMYK) you should not apply different palette of colours than the CMYK (euroscale) or the greyscale - all the Pantone® colours you should convert to CMYK,
if work will be printed from use Pantone®, colours, vectorial objects should be defined as Pantone® colours, and bitmap as duotone or tritone. WARNING: some applications be not able to generate smooth tonal passages folded from several Pantone® colours
in case of multipages document (the book, catalogue) the next sides of document should be delivered in one file (for example: the PDF) one after second. In case more folded documents (when cover is atypical or fat back) you should deliver finished fees,
do not paste objects method "Copy-Paste", you should use the import option,
should avoid special effects like shadows, textures, rendering, transparent, mask of colours on bite maps. In peculiarity use of many effects to one object can cause on printout unforeseen results - in moment printing these effects have to be converted to possible form to recording in one of served through printing device formats (PostScript, PDF), and then often develope differences among this what to be visible on screen, and we get on printout,
whole document TIFF should be monolayer (if projected work consists from several layers you should connect it in one layer), you should also remove superfluous alpha channels - enclosed alpha channels can cause incorrect interpreting by RIP.



* How to prepare works to imagesetting correctly?

We recommend preparation closed works to irradiation. Files designed to irradiation on plates (CTF) should be in format separated or composite postscript file or PDF or to irradiation on plate (CTP) in form of composite postscript file or the PDF. To generating postscript you should use application and drivers accessible higher on this side or on our ftp server. In case sending to file from application like Indesign, Illustrator, Page Maker or Qurak, you should choose the alternative option of printing the document by recording it in language the PostScript in file the PS. Then that file can be printed on different device. The size of PostScript file is usually larger than the orginal document, because it contains graphics and types.

Open files prepared in graphic programmes will require to processing to PostScript. Processing opened files can cause in content of publication the unexpected mistakes, , which can lengthen the time and introduce additional costs of preparation off-set plates

To avoid during printing problems with files PDF you have to apply following rules:

you should type enclose inside document or texts exchange on curves,
works should not contain the connected colouristic sections because that can bring on colouristic errors. Mistakes that for example the emulation of whiteness on the elements, on which the colour be committed as white (both in case of bitmaps how and the vectors),
save files PDF in version not higher than PDF 1.5.



* How do to send files to imagesetting on our ftp server?

To sending files necessary is program co-operating from FTP. The most often use is TotalCommander, you can use other programs like FlashFtp or CuteFTP. You can copy files on server directly thanks that. After ended transfer we ask about telephone to us. You can use search engine too, you should writing down: ftp://username:password@sylver.pl.
In case of problems or different questions connected with sending files we ask about contact with imagesetting bureau.



* What is image position on plate?

Image position on plate is the distance from bottom edge of plate to line of cut the netto fomat.




* What is ozalid?

It is present current name of imposition printout the servant to checking the correctness of electronic editing. Low quality of this printout does not serve to checking the colouring and the quality of final printing production. Executed digital proof serves this or analog from imagesetted plates.



* What is Sublima?

Sublima is Agfa Graphics' most advanced screening option. Its cross-modulated (XM) screening technology is designed to dramatically improve print quality with no extra effort on press. :Sublima lets your press easily hold a 1-99% dot at higher frequencies, so it captures the finest details and the most vibrant colors.