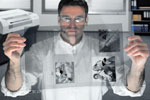 Imagesetting CTF
Imagesetting is transfer electronic text and graphics directly to film by a high resolution output device.
We dispose following imagesetter: AGFA Avantra 25 and AGFA Avantra 30, film-processor AgfaLine 86, Glunz & Jensen MultiLine 550 and proof systems: Epson Stylus Pro 4880, Epson SureColor P7000, Epson SureColor P9000, spectrophotometer I1 Pro, ProofMaster Plus.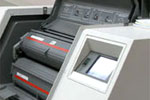 The imagesetter are served by RIPs with engine Harlequin v. 7.1, which interprets not only works recorded as postscript or the distilled pdf, but also as exported PDF directly from graphic programms or the composition of publication, for example: Indesign, QuarkXpress, Adobe Illustrator, Adobe Photoshop, CorelDraw!. PDF files should be compatible with printing standards - to version 7.xx inclusive.
Maximum size of imagesetting: (634 x 754 mm)
We accept works to imagesetting in following formats:

Postscript (Level 1, Level 2, Level 3)
PDF v.1.3-1.6 (Acrobat 4.xx - Acrobat 7.xx) separated or composited; (may contain PANTONE separations)
EPS, AI, CDR
INDD, PM6, QXD
TIFF

Emergency contact:
tel: +48 61 646 46 44
e-mail: n@sylver.pl