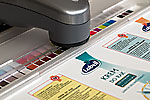 Digital proof
The digital proof - the simulation of printing effect. It is this final effect of this, as the finished, printed product will look. Creating of proof is important process stage the formation of printing.
Digital Proof complies, to introduce the final effect of printing, yet before end all necessary works both customer, as also printer.
Advantages for customer resulting with use of technique, what is digital proof:
the possibility of making a professional color sample including Pantone® color reproduction,
qualification of requirements and expectations the connected with order,
the possibility of catching (and to correct) the mistakes, what can appear in final version,
the acceptance of test print (the digital proof) it is the guarantee of acceptance by customer of final product.